1800 meters security steel Palisade fence to improve with Yudemei Chain link fence to our range
Yudemei is fence industries specialist in manufacturing of chain link fence in China since over 35 years , We have a residential project looking for the Palisade fencing to improve security. We like to corporate with Yudemei to add palisade fence to our range of products .
The total length of the area is 1800 meters and we would require the height of 800mm.
From
http://www.chainlinkfence.org
Steel Palisade Fencing Typical Specification:
Fence Height: 800-1200-1800mm
Post: 50X50x4 mm
Diameter: 19 mm
Materials applicable:
Galvanized steel, powder coated steel
Features:
The steel palisade fencing is very tough with smooth surface and sharp profiled heads.
According to the variety of heads, palisade fencing can be divided into steel profile head, triple pointed head or single pointed head.

Steel palisade fencing makes ideal rigid barriers for garden, yards and other fields offering good visual integrity to the environments.
The property is located adjacent to a beach and the client wants fencing that could be a deterrent from anyone.

We are producing welded mesh for fence panels, electro galvanized steel wire diameter 4,4mm (4,5mm) suitable for project.
We are interested in selling Palisade fencing throughout the South Pacific.
Do you have anyone representing your company in this area.

palisade high security steel pale fencing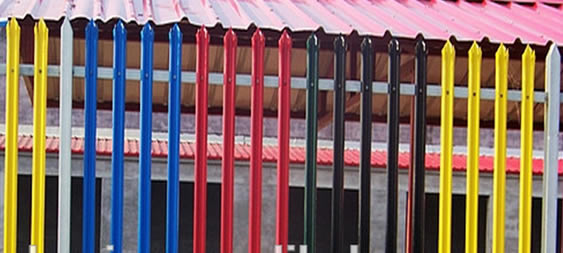 palisade fencing australia